If you need to rent a storage unit near you for your personal or business storage needs, it's likely that you're asking yourself the same questions we hear from people day in and day out. So, we thought we'd share some of the most frequently asked questions and our answers to help you select the best storage facility in St. Charles for your storage needs.

Do you have a storage unit near me?
Our tenants drop by our facility on a regular basis — to store seasonal sports gear, dig out Christmas decorations, or re-stock inventory needed for their business. Having a storage unit nearby helps them quickly get in and out whenever they need to. Thanks to our convenient location at 370 and Elm in St. Charles bordering Fountain Lakes (right behind Phillips 66 and Taco Bell), we're within a stone's throw of New Town (pictured above), St. Peters, Bridgeton, St. Louis, and O'Fallon.
What type and size storage unit do I need?
This is a great question! It's important to consider what you're storing and how often you may need to access it. For example, if you're using a storage unit to store business inventory or important documents, you may need a slightly larger unit in order to set it up more like a storeroom with shelving and pathways to gain easy access.
On the other hand, if you need a storage unit for long-term storage or for items you don't access often, you can really pack in a lot into a smaller storage unit. We don't want you to overpay for space you don't need, so we provide a couple of handy resources to help — like our Size Guide (sample image below of what a 10' x 20' unit can hold) and Storage Calculator.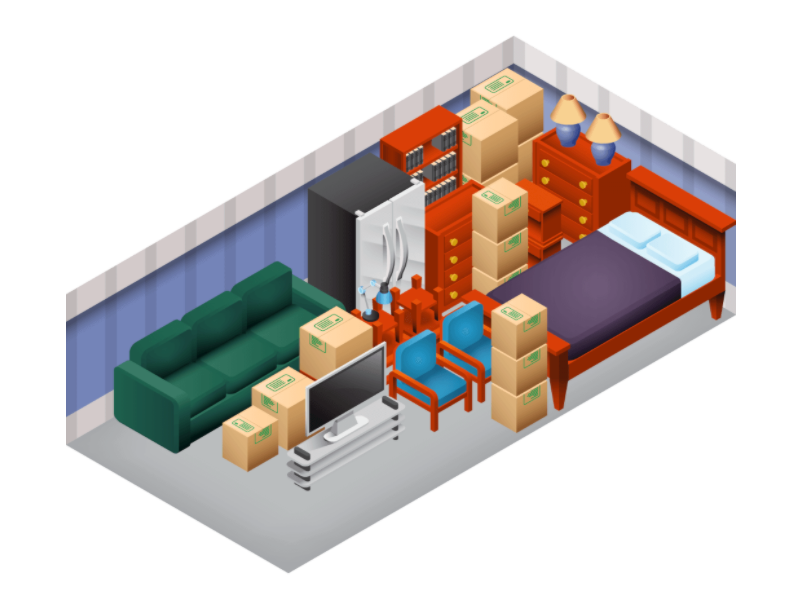 Need more help? Please feel free to stop by our convenient location and our friendly and experienced staff will be happy to show you the various unit sizes available and offer you storage tips to help you save space and money.
How much does a storage unit cost?
We offer six different storage unit sizes, so prices will vary depending on which unit you choose that best fits your needs. Our website lists our various sizes of storage units and what each unit costs per month. You'll see from our Rates page that we offer some great online specials!
We try to keep our prices as low as we can without sacrificing quality. And, we also price-match our competition when you bring proof of their current rates — and you'll be surprised how much more affordable our rates are if you're willing to drive just a few extra miles. Here, you'll still find all the same (if not more) features and amenities like at the big-box chains, just at a lower price. We also throw in a free lock!
Do I need to pay a deposit or other fees?
To help you save even more, you can rent a storage unit at Fountain Lakes Storage with no reservation fee, no credit card, and no long-term contracts — which all adds up to NO hassle. You can also rent month-to-month.

What kind of security should I look for?
We've installed high-definition security cameras around our storage facility for 24-hour surveillance. Our facility requires a security code for entry, offers security lighting, and all customers receive a free lock with every storage unit rental.
We also have on-site management to help keep an eye on things. What exactly does this mean? Every day, we conduct morning and afternoon property walk-throughs to monitor activity, including thorough lock checks. If we see that your unit has been locked incorrectly, we'll contact you.
Don't take our word for it, though. Our five-star reviewer Amanda Speiser says, "I would not choose any other storage facility to hold my belongings. They are very clean and it is always nice and cold when I go in there. One time I even locked my lock wrong and they called me to let me know. Everyone there is very sweet and helpful!"
Is Fountain Lakes Storage part of a chain of storage facilities?
No, we are a locally owned and operated, and family-owned business. After many years in the storage industry, this was our dream project! We personally oversaw the design and building of this facility, and we officially opened in January 2019. This project and our tenants mean everything to us, and we're so happy we can offer a clean, secure, convenient, all-one-level storage facility to serve your storage needs. We will always go the extra mile for you!
How do I pay my self-storage rent each month?
We offer several convenient ways to pay for your monthly self-storage needs:
Pay in advance when you sign up for a storage unit.

Mail or drop off a check. We have a handy drop-box located by our office's front door.

Set up automatic payments with a credit card.

Pay online and manage your account every month with our easy-to-use Customer Payment Portal.
Should I consider climate-controlled storage?
Given that we live in a part of the country where the summers are hot and muggy, and winter days can get down to 25 degrees, renting a climate-controlled unit should be an important factor in your search for self-storage in St. Charles. Additionally, if you need to store items that are temperature-sensitive like furniture, electronics, artwork, photographs, or important documents, then you'll definitely want to rent a climate-controlled self-storage unit. The good news? Every single one of our storage units are temperature-controlled!

Should I look for an all one-level storage facility?
As convenient as a storage unit can be, you still want to make moving your items in and out of your storage unit as comfortable as possible. All of our storage units at Fountain Lakes Storage are on the ground level, which means you won't have to worry about moving heavy items up and down the stairs or using an elevator. And, honestly, this has been such a huge hit for our customers!
This is particularly beneficial for those managing a handicap (we also offer handicap-accessible units), are not especially strong, or are prone to tripping and falling. Lugging a TV, couch, or other heavy items up or down several flights of stairs (or even getting them in and out of an elevator) can be a taxing venture, but our ground-level storage units and wide loading zone entry (see above photo) and corridors will make it easy to load and store your things.
I'm self-employed. How can Fountain Lakes Storage support my business storage needs?
As the owners of this storage facility, we're also self-employed — so we totally understand what you need in business storage solutions. We know that safely storing business assets, including inventory, documents, equipment, supplies, and more, is both a value and a challenge — and deep down, you know it, too. Whether you're operating out of your home or car, and are drowning in stuff, then renting a storage unit can be one of the quickest, easiest, sure-fire ways to immediately start saving money (and your sanity).
We've dedicated an entire section of our website to Business Storage. Check out our Business Storage Basics and Benefits sections for helpful information.
Do I need insurance for my storage unit?
If you're storing personal belongings, then we recommend that you contact your insurance agent to see if your homeowner's or renter's policy covers your storage unit contents. There's a pretty good chance that your policy already does. But if it doesn't, we can help you find an inexpensive policy to suit your needs.
If you're storing items for your business, just a helpful reminder that you can write off your business storage unit on your business taxes. Instead of classifying it as a business deduction like you would any dedicated workspace at home, you should classify it as "rent" — since technically it is leased space.⁠ It's also a good idea to take photos of your business storage unit for each tax year. After all, you should make sure you enjoy the full tax deduction you legally deserve.⁠ Please consult your tax professional for advice.
Read more about our thoughts on storage unit insurance in this blog post.
What if I need storage supplies or forgot something?
We've got your covered! Just visit our office to purchase boxes, tape, additional storage unit locks (your first lock is free on us), and other small moving supplies. We also have courtesy dollies and hand carts available.
When can I access my storage unit?
Our tenants are busy people with varying schedules, so they need to be able to access their storage unit at different times of day, and on different days of the week. At Fountain Lakes Storage, you can access your unit from 6:00 a.m. to 9:00 p.m., seven days a week via our coded keypad entry. 24/7, 365-day access is also available. Just see our office manager for more information.
What do customers say about your storage business?
As a local family-owned business, the level of customer service we provide is a direct reflection on our family. We take every opportunity to go the extra mile to keep earning the good faith our tenants put in us by entrusting their belongings to our care.
We also appreciate that our tenants take time out of their busy schedules to give us 5-star reviews and recommend us to others. You can check out our latest customer reviews on our Reviews page.
We also offer a customer referral program that serves as an additional tenant endorsement of our facility's amenities and services. This program's specials change from time to time, so please contact our on-site manager for information about our current specials.

Is the facility clean?
We pride ourselves on keeping our storage facilities sparkling clean. In fact, so many of our customer reviews mention our cleanliness, referring to our facility as "immaculate," "spotless," and "extremely clean and bright." We also play music in the hallways to keep our tenants company while they're loading and unloading things. A tedious job is always more enjoyable with music!
How can I keep aware of your current specials?
Please call us and we'll provide you with the latest specials and get you into the right storage unit for the right price!
Do you have social media so that I can stay connected?
Yes! Follow us on our Facebook and Instagram social media accounts for storage tips and more. And, of course, you can always check our website for additional information and resources. To get started, read up on some basic Storage Tips here.
I'm ready to get started! How do I rent a storage unit?
For great customer service, the easiest way to rent a storage unit is to call our office or stop in today. You can also reserve a storage unit online. Visit our Rates page to get storage unit sizes and rates. Once you click the Rent or Reserve buttons, you'll be led through a simple sign-up process. Or, just drop us a note.
See our full line-up of FAQs here.