If you're searching for self-storage solutions near you, you'll likely find a number of storage options including climate-controlled units. Some self-storage companies might offer a few climate-controlled units, while facilities like Fountain Lakes Storage are 100% climate-controlled.
When we designed our Fountain Lakes Storage facility in St. Charles, Missouri, we specifically chose to make it 100% climate (or temperature) -controlled since we live in an area that experiences huge swings in heat, cold, and humidity. We just decided to just end the discussion, invest in a state-of-the-art system, and either go big or go home! (We went big.)
FUN FACT: Fountain Lakes Storage is the ONLY 100% climate-controlled self-storage facility in the St. Charles, Missouri area!
As self-storage experts, we know from experience that a lot can happen to your belongings while it's in storage. Moisture build-up and extreme temperatures are two of the biggest concerns. How then do you make sure your items are in the same condition when you pick them up as when you dropped them off?
Two words: Climate. Control.
We want your belongings to come out of storage the exact same way they went in — which means they need to be protected from the elements of the weather in an environment that's alternatively heated and air-conditioned, when appropriate.
Let's look at what climate-controlled really means, items that require it, questions to ask when you're determining if you need it, and other (really good!) reasons to rent a climate-controlled unit.
What Is Climate-Controlled Storage?
Climate-controlled storage is specifically designed to maintain both steady temperature AND humidity levels. The optimal temperature range is between 55 and 80 degrees Fahrenheit. And, like Fountain Lakes Storage, climate-controlled storage is most often found at storage facilities with indoor storage units.
Why does that perfect blend of the right temperature and humidity matter? Because they work together to either create or help eliminate moisture. More heat + more humidity = more moisture. And, more humidity means more heat in the air. So, by closely monitoring both temperature and humidity to keep them steady, moisture can't form and your items stay protected.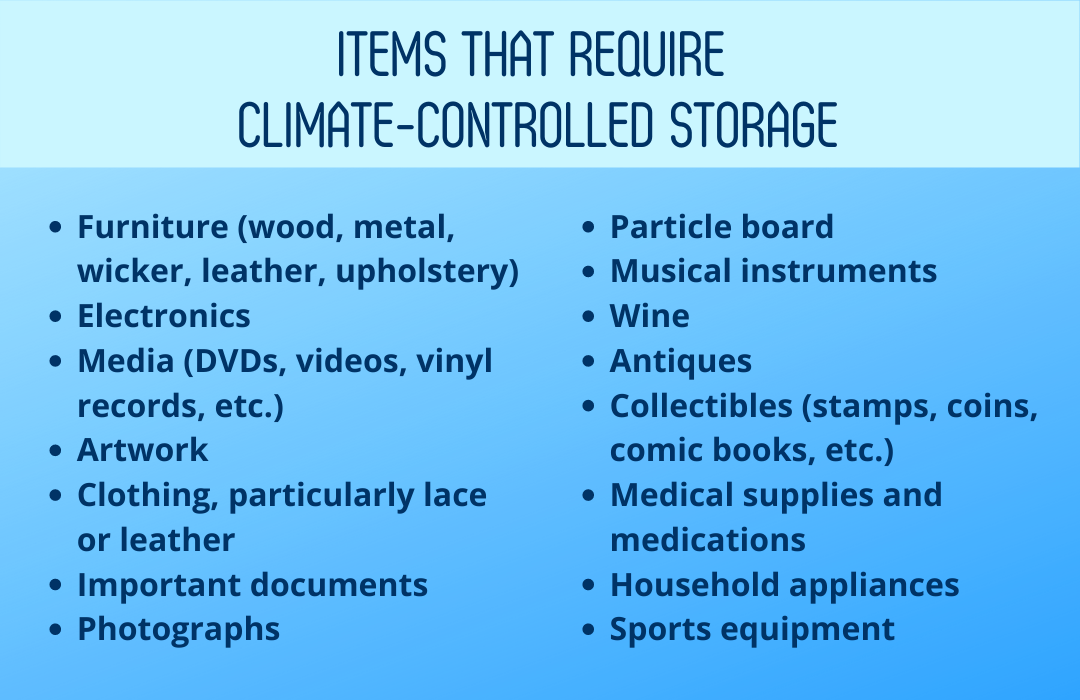 Items That Require Climate-Controlled Storage
All items in storage will benefit from climate control, but some truly require it. Here are the big ones:
The items listed in the infographic we've created for you include furniture, electronics, media, artwork, wine, antiques, collectibles, particle board, leather, and so much more!
And, the thing they have most in common is how they react with moisture. Wood can become warped, electronics can become cracked, and paper items and photos can actually disintegrate.
TIP: Don't overlook items that may have been soiled but may appear clean, like high chairs and mattresses. These are mold magnets if you don't ensure they're completely clean and dry!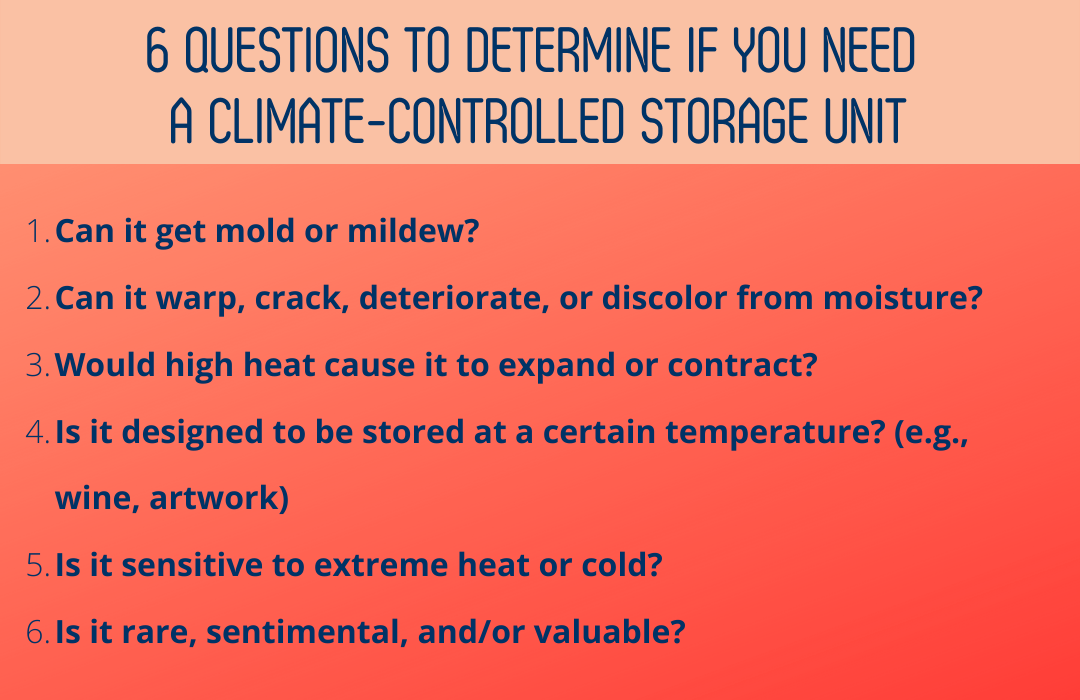 6 Questions To Ask When Considering Climate-Controlled Storage
At Fountain Lakes Storage, all of our storage units are climate-controlled. And, even better: All of our storage units are indoor and on the ground level. That means no elevator or stairs — and no higher-level floors that would be conducive to harboring rising temperatures.
So, if you choose Fountain Lakes Storage for your storage needs, you'll automatically enjoy a climate-controlled unit. Still, the infographic to the left outlines some questions to ask just to double-ensure if specific items will benefit most.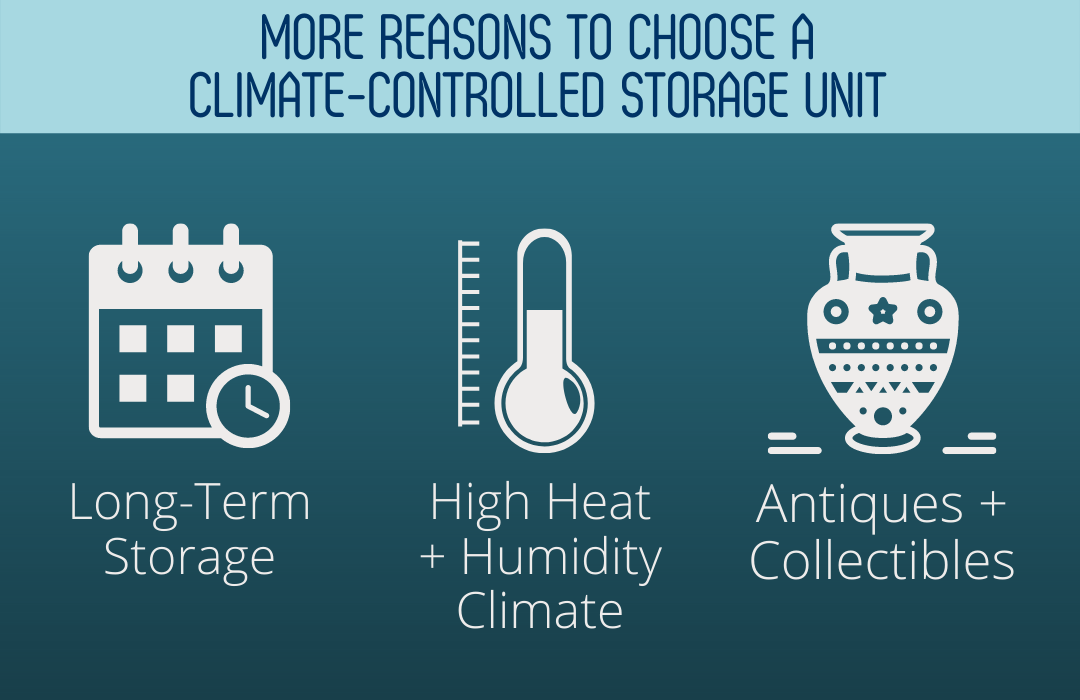 3 More Reasons to Rent a Climate-Controlled Unit
Sometimes the need for a climate-controlled storage unit is less about the items that are going to be stored and more about other factors:
Long-term storage: If you need to store your belongings for a long period of time, chances are likely that the outdoor temperature will vary widely.

Hot and humid climate: If your local area is already prone to high heat and humidity, then it's best to head things off at the pass and choose climate-controlled.

Storing collectibles, antiques, and irreplaceable items: It's always better to be safe than sorry! Sentimental items simply can't be replaced, so it's best to go with a climate-controlled storage solution.
Choose Fountain Lakes Storage For Your Climate-Controlled Storage Needs
At the end of the day, we want you to have peace of mind and prevent costly damages. Climate-controlled storage helps you have both of those — plus, when you visit your storage unit at Fountain Lakes Storage, you'll be sure to have a comfortable visit no matter the weather forecast.
We're the 100% climate-controlled storage facility you never knew you needed until now! In fact, St. Charles, Missouri hasn't had a 100% climate-controlled indoor storage facility like Fountain Lakes Storage until we came on the scene. Opened in January 2019, our storage facility is located near Sugar Fire and behind the Phillips 66 and Taco Bell on Elm Street at 370 and Elm. You can also find us near Dollar Tree, Arby's, and Ole Tyme Produce.
If you've been having a hard time finding storage solutions with a great experience in New Town, St. Peters, Bridgeton, or St. Louis areas, give us a call, reserve your unit online, or drive to our storage facility to get set up with a brand new storage unit. Want to know more? Check out our rates, storage calculator, and FAQs. Don't see what you're looking for? Contact us!